Gideon is a world-renowned manufacturer of Autonomous Material handling Robots ("AMR") and solutions aimed at automating logistic processes. As a part of their rebranding strategy, we teamed up with the talented team at Bornfight in 2021 to create a new website—one that would present the client's brand in an exciting and modern way.
Expertise
Research
Strategy
Implementation
Operations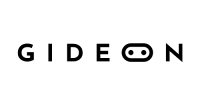 Challenges
Strike a balance between the marketing's conversion-driven aspirations and the desire to treat the website as a showcase for the product.
Make sure that the website showcases all the features to the visitors who understand the industry while also educating those who don't, without trivializing the messaging.
Since the majority of visitors would be acquired through the blog and other content formats, we needed to ensure that the presentation is appealing enough that the user has a natural flow from content to the product.
Solution
We started by conducting a thorough competitor analysis that was primarily focused on setting up any clear expectations that the visitors might have, as well as analyzing how competitors are using emotional and rational messaging to present their message and showcase products.
Buyer personas were developed, based on relevant business data and their behavior patterns regarding the way they interact with the brand and relevant content across various touchpoints and channels.
After we had a good understanding of what the audience might expect, both presentation and messaging wise, we had to develop an information architecture - one that would highlight all the necessary information as well as visual and functional components.
A complex interaction map was developed, showcasing all the major entrances to the website and illustrating the behavior flow throughout all those scenarios, highlighting how the visitors under each scenario might ideally interact with the website during the customer journey.
A sitemap was created and for each page or page type that was to be created. A list of usability elements was created together with dedicated conversions for each page, making sure that the developers understand what each page should contain.
We collaborated with the client throughout the whole content creation process to ensure that the final content fits the performance marketing needs.
Results
Vision

An unified vision of the website's structure and purpose, where everyone was on board.

Clear scope

Instruction for developers and designers - all the elements were defined and the scope of the product was clear and understandable for everyone involved.

Content

Streamlining the content creation process under the unified performance vision, making sure that the content presents, educates and sells.

Awards

Awarded: Awwwards Honorable Mention